George Washington at Princeton Portrait
Paris, France
A Colonial American Envoy and His Diplomatic Gift are Seized at Sea
Over 16,000 works of art, historic objects and antiquities comprise the heritage collections housed in U.S. diplomatic and consular establishments worldwide. Whether acquired as gifts, bequests or conveyed with property, the far-flung items, in a variety of styles and media, span centuries. They play an important cultural diplomacy role and help to tell the nearly 250-year-old story of American diplomacy.
Of those many collection items perhaps none is more compelling––and more freighted with history––than George Washington at Princeton, a full-length portrait of America's foremost founding father now on display in the U.S. Ambassador's Residence in Paris. Painted from his famous original at the height of the Revolutionary War by renowned portraitist Charles Willson Peale, it was sent in 1780 as a gift to the Dutch under the care of the Honorable Henry Laurens, American Envoy to Holland, who was charged with securing Dutch loans for the American rebellion against England's tyrannical King George III and unfair taxation.
The painting, and Laurens, never made it to Amsterdam. Their packet boat, Mercury, was captured at sea by Captain George Keppel of H.M.S. Vestal. Laurens was charged with treason and taken to the Tower of London (the only American ever imprisoned there, though later released) and Washington at Princeton, now a prize of war, became Keppel's property. His family, the Lords Albemarle of East Sussex, kept it at their family seat for the next 165 years.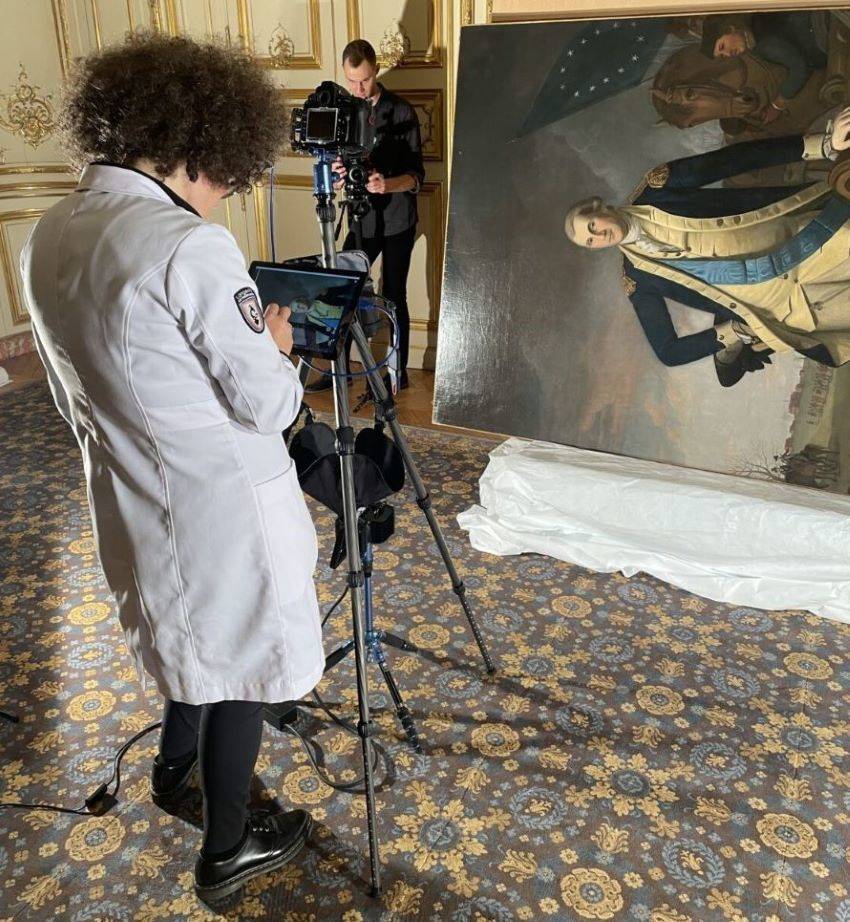 Consultant Emily MacDonald-Korth photographs sections of the Paris portrait under visible light.
Back in American Hands, Washington Returns to Europe, and Diplomacy 
Known as the Laurens-Albemarle Washington at Princeton, the portrait remained in England until 1946, when it was sold back across the Atlantic, ending up in the possession of Caroline Ryan Foulke, an heiress, art collector and Francophile. Mrs. Foulke generously willed the painting in 1986 to the Department of State, asking that it be displayed in the American Ambassador's residence in Paris.
Thus it was that this enigmatic portrait, originally meant as a diplomatic gift for the Dutch, languished as a war prize in England and, two centuries after it began its mission, finally took up a diplomatic role in the Louis XVI Salon, greeting visitors to the home of United States envoys to France. George Washington, who never crossed the Atlantic during his lifetime, is now at home in both image and spirit in the nation which helped the United States win its independence.
Proving Provenance and Launching Conservation on a National Treasure
Almost as dramatic as its Revolutionary backstory has been the tale of Washington at Princeton's rediscovery by the art world. In private hands and unavailable to scholars for most of its existence, only now have this artwork and the records pertaining to it been definitively examined by experts.
The Fund to Conserve initiated funding for the conservation analyses and attribution research which was facilitated by the U.S. State Department's Office of Cultural Heritage, the Fund to Conserve's public partner. French and American conservators and scholars spent countless hours painstakingly analyzing the portrait using modern technology and minutely comparing it to other works attributed to Peale. The results definitively establish that the portrait was indeed painted by Charles Willson Peale over 240 years ago.
Conducting research on two continents, consulting with experts in Philadelphia, Washington and Paris, you can meet the experts and see how they rediscovered this national treasure by watching a compelling short film about their work below.
After such a dramatic history, is it any wonder that Washington at Princeton has suffered some battle scars? The intense study of the portrait revealed extensive poorly implemented "repairs" over its 240 years. Considerable conservation work will be needed to ensure the portrait's continued service as an ambassador for early American art, and as a reminder of our enduring bonds with France.
George Washington at the Battle of Princeton. Charles Willson Peale. 1779. U.S. Department of State, Bureau of Overseas Buildings Operations, Cultural Heritage Collection. Photo via Longevity Art Preservation
With gratitude, we acknowledge this project's generous supporters:
Anonymous
Mr. and Mrs. William H. Borthwick
Dr. and Mrs. Fraser C. Henderson, Sr
Marcia V. Mayo
As of December 2022
How The Study Was Conducted
Make a difference today!
You can play a role in the Fund to Conserve's public-private partnership with the State Department's Office of Cultural Heritage to preserve and maintain America's diplomatic and cultural treasures abroad by making a donation today. Your gift will help preserve the George Washington at Princeton portrait and the irreplaceble landmark that houses it – the residence of the U.S. Ambassador to France and Monaco.
Learn more about how to get involved with the Fund to Conserve.