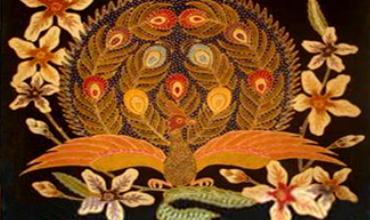 Untitled, batik* on fine cotton cloth by Iwan Tirta ca. 1980, 42 ½ x 31 in.  Permanent collection, U.S. Embassy, Jakarta.

This rich floral motif with peacock was inspired by the hokokai batik style of Pekalonga (Japan) north coast style, which was developed during the Japanese occupation of Indonesia from 1942 to 1945. Infused with vibrant colors, cherry blossoms, chrysanthemums, and butterflies, the style was created by Indonesians to please the Japanese taste. The technique and design of hokokai batik was excellent and incomparable. Throughout his career, Iwan Tirta found great inspiration in the hokokai style, later using it in the fabric of his glamorous evening gowns and couture wear.

* Originating in Java where it was developed into a highly sophisticated and complex art, batik is a centuries old technique of decorating cloth using wax and dye. The multi-step process begins with drawing the design onto clean, white cloth with a fine needle tool that has been dipped into hot wax. With the wax acting as a dye repellant, the uncovered parts of the design take on color when the cloth is exposed to dye. Women usually do this work, sitting around a central pot of hot wax, carefully drawing the patterns. Once waxed, the cloth is dyed multiple times to achieve the desired colorations. The wax is then removed by placing the cloth in boiling water.
FRAMING OF THE IWAN TIRTA BATIK COLLECTION
Iwan Tirta (1935-2010), batik artist and textile designer.
HISTORY:
For over thirty years, twenty-seven wall hangings by Indonesian-born batik artist Iwan Tirta have hung in the U.S. Embassy in Jakarta. Created during the 1970 and 1980s, this large body of work serves as a testament to the friendship between Indonesia and the American community in Indonesia. A Yale University trained lawyer who became an internationally known textile designer, Tirta is credited with initiating the early revival of batik design during this two decade period
The U.S. Embassy's little-known collection was thoroughly cleaned and conserved over a two-month period in the spring of 2015, thanks to a partnership between Jakarta's Museum Tekstil and the embassy. Julia Brennan, a leading U.S. textile conservator hired by the U.S. State Department's Bureau of Overseas Buildings Operations, traveled to Jakarta to undertake the project. Joining forces with a team from the Museum Tekstil, they combined batik conservation techniques in returning the wall hangings to an appearance closely resembling their original state. Additionally, they briefed Indonesian heritage professionals about the embassy's collection, as well as the life and work of Indonesia's most famous contemporary batik artist.
OPPORTUNITY:
Stitching the newly conserved batiks onto black cloth borders; mounting, stretching, and framing with UV protection for installation in the new U.S. Embassy in Jakarta.
PROJECT DURATION:
1 Year