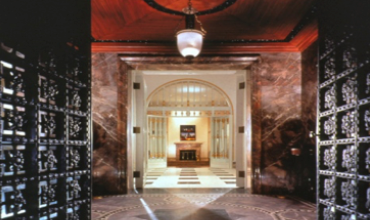 Bronze entrance doors opening into the foyer of the U.S. Ambassador's residence, Tokyo.
CONSERVATION OF MONUMENTAL ENTRANCE DOORS
Front entrance, U.S. Ambassador's Residence, Tokyo
HISTORY:
The monumental bronze entrance doors of the U.S. Ambassador's Residence in Tokyo are significant in that they were part of the original design and construction of the facility, which was begun in 1926 and completed in 1931. Antonin Raymond, one of the building's architects, was a student of Japanese culture and spent large periods of his practice in Japan; this influence can be seen in the design and ornamentation of the entry doors. They were crafted by the construction firm that built the house, the Obayashi Corporation, whose projects at that time included Tokyo Station. When the Great Kanto Earthquake struck Tokyo in 1923, Tokyo Station remained unharmed, enabling the company to demonstrate its technological capabilities on the national stage. While the U.S. Ambassador's Residence has never been seriously damaged by subsequent earthquakes, because of their age the bronze entry doors are in need of restoration to return them to their original beauty and functionality. Click here for more information about this Secretary of State's Register of Culturally Significant Property building.
Many notable people have entered through the monumental bronze entry doors of the U.S. Ambassador's Residence during the course of almost nine decades. The first post-World War II resident following the surrender of Japan in 1945 was General Douglas MacArthur, who served as American Proconsul and Supreme Allied Commander, overseeing the rehabilitation of Japan. United States presidents Gerald Ford, Ronald Reagan, Jimmy Carter, George H.W. Bush, Bill Clinton, George W. Bush and Barack Obama have been entertained at the Residence while on official visits to Japan, along with U.S. secretaries of State, Japanese prime ministers and other dignitaries.       
Abbie Rowe. White House Photographs. John F. Kennedy Presidential Library and Museum, Boston.
Photograph of President John F. Kennedy and General Douglas MacArthur in the Oval Office on August 16, 1961. As Supreme Allied Commander and American Proconsul in Japan after WWII, MacArthur and his family lived in the U.S. Ambassador's Residence from September 1945 to April 1951. It's most recent occupant was Kennedy's daughter, Ambassador Caroline Kennedy, who served from 2013 to 2017. 
OPPORTUNITY:
Complete cleaning, restoration and the creation of a maintenance protocol is required.
PROJECT DURATION:
1 ½ Year
PROJECT DONOR:
Anonymous