Detail, surface of chinoiserie lacquer panel.
RESTORATION OF TEN, EIGHTEENTH CENTURY CHINOISERIE LACQUER PANELS, SALON PONTALBA, UNITED STATES AMBASSADOR'S RESIDENCE, PARIS, FRANCE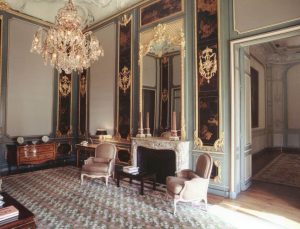 ---
HISTORY:
The U.S. Ambassador's Residence in Paris, located at No. 41 rue du Faubourg Saint-Honoré in the 8th arrondissement, is a distinguished hôtel particulier (grand townhouse) designed by architect Louis Visconti, whose work included the north wing of the Louvre and Napoleon's Tomb. He was commissioned by the wealthy American Micaela Almonester Pontalba (1795-1874), of New Orleans, who at age sixteen wed a French nobleman through an arranged marriage, separating from him in 1831 after bearing five children. Embracing her new life and enamored of France and all things French, she eagerly threw herself into building Hôtel Pontalba, which was constructed between 1852 and 1855. In her quest for grandeur, the baroness bought the stately home of the Harvé family, and installed its treasures in her new home – salvaged doors, mantelpieces, shutters, panels, and a decorative ceiling. Among the most famous of these were the chinoiserie lacquer panels. The room in which they were installed was described as having been the talk of Paris at the time. (Click here for more information about this Secretary of State's Register of Culturally Significant Property building.)
After Baroness Pontalba's death the property passed to her sons who, in accordance with her wishes, sold the residence with its elaborate furnishings in 1876 to provide pensions for her grandchildren. The purchaser was Edmond de Rothschild, one of the brothers managing the famous Rothschild family banking empire, who with architect Félix Langlais made substantial alterations and additions to the house. The original Pontalba entry remains today as the entry hall of the U.S. Ambassador's residence, and one of the three center salons overlooking the gardens has been named Salon Pontalba, in honor of the baroness.
The saga of the panels took a sharp turn in the late 1940s, when they were removed and went missing until being rediscovered in 1996 in the basement of a chateau in southern France owned by Paris antiques dealer Bernard Steinitz. The U.S. government acquired the panels in 1998. Mr. Steinitz donated two years of his skilled artisans' time to restore and install them, as a means of expressing his appreciation to the United States government for helping his family during World War II. Today, the panels again require conservation in order to maintain them in good condition, so that they may be enjoyed by future generations.
 OPPORTUNITY:
To undertake exploratory conservation and repair of the ten chinoiserie lacquer panels to determine whether it is necessary to do a full removal of the repainting and discolored European varnish that lies on top of the original vegetable lacquer.
PROJECT DURATION:
1 Year